Elephants are such beautiful animals to include to your amigurumi list. And to be able to crochet a small elephant like this one has been a delight. I'm definitely filing this under, crochet in under an hour projects.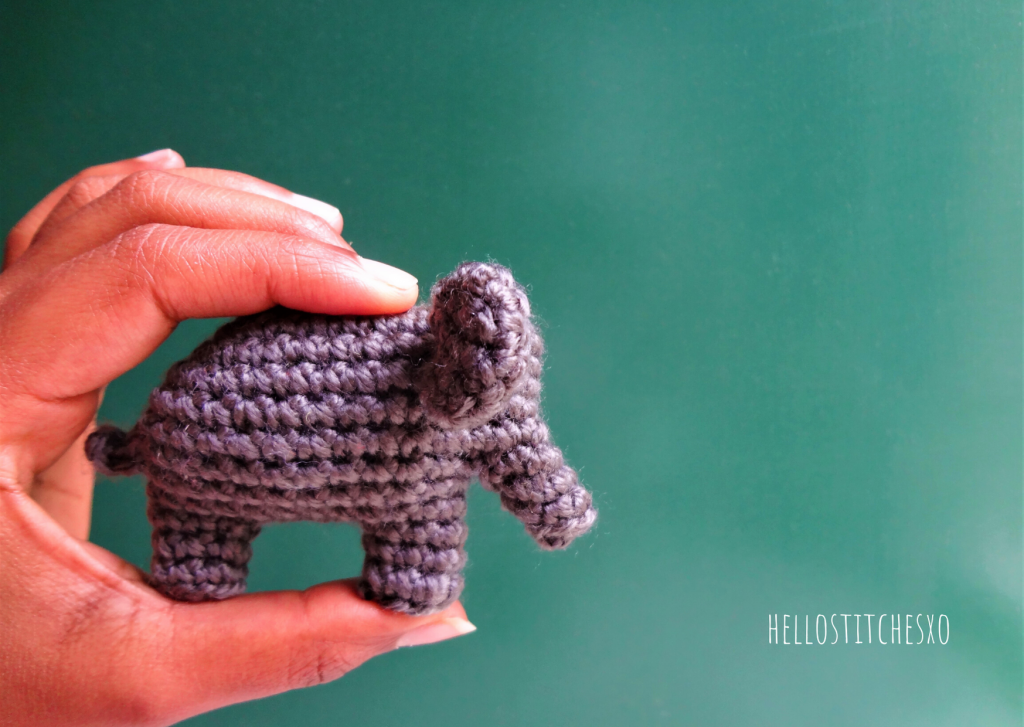 The elephant is two dimensional with the three dimensional attributes when you stuff them. The best part of this crochet small elephant pattern is that it worked in one piece, starting from the head to toe. Except for the ears which can be sewed in later on.
The crochet small elephant in done in continous rounds without joining just like other amigurumi toys. It takes only twelve rounds of crocheting from start to finish. So if you are ready for a quick little challenge, I've got the right pattern for you.
Yes, you can bet on me to have a crochet elephant family at home. For a larger version of the elephant amigurumi, check this post.
So, without any more delay lets start this cute crochet elephant.
Items needed
8 ply Acrylic yarn | 4 medium weight yarn in gray
3.5 mm crochet hook
Measures
Height : 5.5 cms
Width : 7 cms
Abbreviations
Rnd = Round
MC = Magic circle
Ch = Chain
St(s) = Stitch(es)
Sl st = Slip stitch
SC = Single (UK double) crochet
INC = Single (UK double) crochet increase with 2SC's in 1 stitch
Video link to the pattern
---
Crochet small elephant pattern
Foundation chain: Chain 12
Rnd 1: Start from the second chain from the hook 10SC, 3SC in the last chain, turn your work and start working on the other side of the chain 10SC.
Rnd 2: 11SC, 3SC inc, 11SC.
Rnd 3: 12SC, 3SC inc, 12SC.
Rnd 4: 13SC, 3SC inc, 13SC.
Rnd 5: 14SC, SC, 14SC.
Rnd 6: 2SC inc, 14SC, Make the tail for the elephant Chain 4, 3SC, 14SC.
Rnd 7: Make the increases for the trunk 2SC inc, 2SC inc, 14SC, SC, 12SC (Stopping two stitches before the round finishes)
Rnd 8: Skip 6 sts, 12SC, 12SC.
Rnd 9: 12 SC, 4SC.
Rnd 10: Start crochting the rear legs, 8SC.
Rnd 11: 8SC.
Attach yarn at Rnd 7 for the trunk, refer video if you have doubts proceeding with this.
Trunk:
Rnd 1: 8SC.
Rnd 2: [2SC, INVDEC] * 2 times. (6)
Rnd 3: 6SC.
Front legs:
Rnd 1: 8SC. (8)
Rnd 2: 8SC. (8)
Ears:
Rnd 1: Magic circle, 6SC. (6)
Rnd 2: 2SC in each st around. (12)
Rnd 3: SC around. (12)
That's your cute small elephant done. The elephant looks so much better when stuffed, but you can also use it as a crochet elephant applique. Happy crocheting!